Amanda Rendall is one of a kind. She's a super fit glamour girl has always firmly taken the babeshows by storm. Known as the A-Bomb, she has also pushed the boundaries with Ofcom to their utmost extremes, thrilling and exciting viewers in every possible way.
Perhaps more than any other babes on tv, Amanda goes down in the annals of history as being one of the most memorable. But today, we wanted to look beyond the sex symbol. We will be taking an up close and personal look at the presenter, the athlete, and the glamour model. But most of all, we want to look at the girl who is a true fighter. She has fought for the good of her fans, even at her own personal expense, to put on the kind of shows her fans always wanted from her.
At just 5 ft tall, Amanda Rendall has fulfilled all the possible desires of a babeshow fan, and she really is proof that size really doesn't matter! So let's take a look at the warrior, the athlete, the presenter and why is she wins the gold prize as a star on the babeshows.
THE WARRIOR WITHIN
This element of Amanda's personality is often greatly misunderstood, but among those who do get it, it brings her the ultimate respect. There's only ever been a very limited number of models on the babechannels, whose performances are strictly for the fans and not the bosses, strong in character and really out there, purely with the fans in mind. This type of character was put out of the picture by a combination of Teleshopping conditions bringing in much stricter controls, but also cuts and closures across the industry. These effectively forced the bigger channels with high volume viewers to look beyond simple interactivity as a means of generating revenues on the shows.
But if ever there was a fan pleaser, Amanda wins first prize. She's never looked happy on the babe channels unless her fans were happy, and at times that she was unable to give them what they want, she could get really upset. As a result she has always had some truly dedicated fans. Yet, many people have not understood how committed she has always been to giving babeshow viewers the time of their lives, even at the cost of her own progress on principle if necessary, and at times she deemed that it was.
This wasn't just about providing the hottest content either – Amanda has always been a rebel with a cause, rebelling against implemented policies and tactics on the channels, regardless of her personal risk and the consequences which followed. As far as Amanda was concerned, anything that wasn't good for the fans, wasn't good for her. She also made this blatantly clear to those who've wanted her to compromise on quite a number of occasions. Check out more of Amanda in this Sexstation blog post.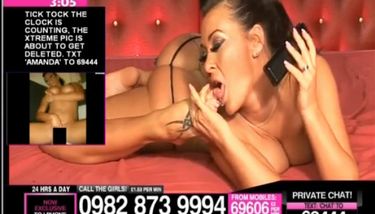 FINGERS UP TO THE MODERATOR!
Amanda often rebelled at what she considered to be over-cautious moderation. On screen, it often looked like she got carried away with herself, or simply had no regard for the rules. In reality this was part of her own call for freedom and very much part of her ethic.
Some fans have commented that at times, Amanda was perhaps wrong to take the rules into her own hands. But you can't make an omelette without breaking eggs. Success is reached by the risk-takers, and those who dare win. If the channels had really felt that Amanda was not a risk worth taking, they wouldn't have kept giving her the airtime, and certainly not at the peak times she often got.
There is a story that Bang Babes suspended Amanda after the regulator picked up on a series of transgressions on an infamous show, way back in November 2009. Rumours circulated that the channel had taken a zero-tolerance line, with Amanda being the rogue performer. But in fact, there was no real break in her appearances, with the exception of her having a brief holiday in February 2010. Bang Babes may not have been happy with every move Amanda made, but they certainly didn't strike her off the schedule. She was babe TV gold.
ATHLETIC AMANDA: GOING FOR GOLD
And while we are talking about gold, if ever you've ever seen Amanda pole dance or backflip on the babechannels, you'll agree that she wins the first prize. Her former life was that of an athlete, and when people say she is athletic on the babeshows, they are, perhaps without knowing it, using the term in its truest sense.
Amanda's athletic abilities are amazing and can often leave you open mouthed. Despite the fact that she is a natural, she's also never blown her own trumpet, You really don't expect to see a series of amazing backflip somersaults with inch-perfect landings from a glamour model on a babe channel. But Amanda did it.
Amanda was also frequently asked to do 'the crab' many times, and even posed did this in a naked version on Babestation. Her famous pole routine was a fantastic display, executed perfectly, breathtakingly, and fluidly, with typical mastery and Amanda nonchalance. Her backflip performances regularly thrilled viewers too. Viewers adored her, as you could always expect the unexpected. And she often gave this to fans with athletic skills worthy of a Babe Olympic gold medal.
PRESENTING IN STYLE
Amanda has been an excellent presenter on the babe TV channels. She also brought an extra dimension to Bang Babes with her humorous and often impromptu comments.
She was really the first girl to engage passive Freeviewers on Bang Babes and there was nothing standard about the way she did this. She actually used to chat viewers up in her inimitable style, instead of using standard or coached sales pitches. She did have an advantage over many other babes, in that she was already well known from her days on Babestation, but still, she was one of a kind in the way that she communicated. She was funny, natural and original. Her introduction of picking up the mic and singing All by Myself, followed, in a sweet, innocent voice, by the statement: "Tonight Matthew, I'm gonna be a dirty ho…", is worthy of a Babe Award in its own right.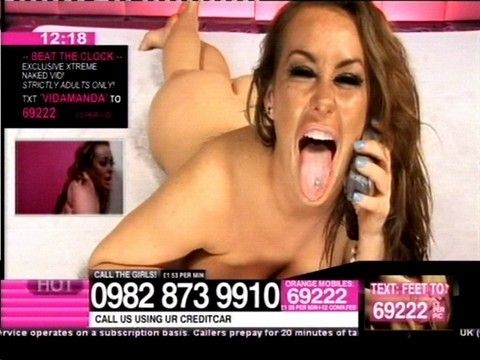 AMANDA RENDALL- SHOW TIME!
Amanda never had any issues moving channels and has appeared on many of the best. With her unique style and character, she was always an asset, albeit at times considered to be a risky one. She featured on PartyGirls, Shebang, Bang Babes, RLC/PBTV, Bluebird and TVX, although TVX Never managed to get her onto a show, as she was there for such a short time, before she herself decided to move on to Babestation.
THE MODEL
Aside from what we have talked about above and Amanda's multiple skills, it is worth mentioning that it was her glamour model status that really made her eligible for the babeshows in the first place. Since gaining popularity on the babeshows, Amanda has never really pushed forward her glamour model career, yet she is undeniably a very attractive and glamorous girl.
Amanda has brought some of the most exciting moments of all time to the biggest babe channels in the business. Her place in babeshow history is not only genuinely merited, but also assured. Check out this story about Amanda celebrating Rangers win from The Sun