Hot news from Babestation: Aria Rose has been awarded the Babestation Babe of the Month for October. And, in a recent interview with Babestation, the Top Babe revealed the strangest request she had ever had while performing on their live shows.
WHO IS ARIA ROSE?
Looking at Aria, we have to say that we can immediately see several reasons why she won the BOTM prize. She is true beauty and is blessed with a strange combination of hot, seductive looks, but she also has a real freshness, even an innocence about her. It's an intriguing combination. With her big green eyes, top model figure and 34DD assets, there is no disputing her charms.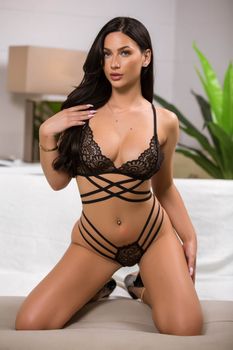 SO, WHAT ABOUT HER STRANGEST REQUEST
And, apparently, Aria absolutely loves Babestation Cams. In her recent BOTM interview with Babestation, she reveals that on BSCams, she can make better connections with her camera than on any other platforms she has tried. The Babe of the Month awards began in May 2020 and since then, quite a few big names have reached the Halls of Babestation BOTM fame. So, a warm welcome to Aria Rose, who joins the likes of Priya Young, Caty Cole and Lynda Leigh among the top prize winning TV babes as Babe of the Month.
If you're curious as to the funniest calls models have had on babestation follow this link for more!