History of Babe Channels, Television X
In the history of The Babe Channels, we now have something completely different, and that is the history of Television X. TVX was not only one channel, it was a whole series of several different adult channels. These channels featured exclusive XXX-rated films and series, plus their very own live babeshows. The channels featured some pretty hardcore material and also had an avant-garde style. In fact, the channels were so unique and interesting, that Ric Porter, producer of the TVX shows, even wrote a book about his experiences entitled 'Welcome To Pornoland', available here! Get the inside picture on TVX, its porn content, its top live babeshows babes and a full lowdown of everything TVX here!
Television X- For Adults Only
There were several reasons that Television X differed from the other babe channels and types of babeshows that we know today. Firstly, because TVX also made its very own porn features, featuring big-name British Porn Stars. Secondly, because of its different structure, it also produced and offered its very own babe channel entertainment at hugely cut-price rates. And thirdly, because all of that was owned by Richard Desmond, publisher of OK magazine, former owner of the Daily Express, Daily Star, and owner of Channel 5.
Actually, Richard Desmond was always a great entrepreneur. In the 1980s, Northern and Shell, his publishing company, took over much of the UK adult magazine market. This was in the days before Nuts, Zoo, GQ magazine had been invented. At the time, the only men's mags available in the UK were Playboy, Penthouse and British porn mags such as Mayfair, which was not really an international name of the same standing as the previous two. Playboy was then essentially an exclusive American adult magazine. Penthouse though, had a British version and that was run by Northern and Shell, owned by the fabulous Mr Richard Desmond. It featured pop stars as well as porn stars and was thought to be THE British men's entertainment magazine at that time.
So, it took some clever thinking and a big step forward into the world of adult entertainment, to think of going onto adult TV with an X-rated channel for the British public.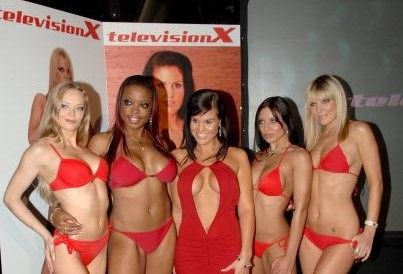 The Fantasy Channel goes Wild
Back in 1995, Ric Porter was working as an editor for Fantasy Publications (part of the Northern and Shell group). This was at the time that the managing editor had the idea of setting up an adult TV channel to rival what was then the only satellite TV channel broadcasting adult material in the UK, the Adult Channel.
So, in 1995, Portland TV, a subsidiary of Northern and Shell launched "The Fantasy Channel," which would later transform into Television X. The Fantasy Channel was one of the first ever XXX adult channels available on the Sky EPG in the UK. It was an encrypted channel, which users had to subscribe to, in order to view the XXX-rated content. Its first ever adult encrypted TV show featured Charmaine Sinclair, a well-known page 3 girl, who, funnily enough, had also been a British Penthouse Pet. Charmaine was romantically linked with Robert De Niro in the lead up to the launch of the Fantasy Channel, so we are talking a big profile babe here! She worked exclusively for the Fantasy channel and later for the TVX bouquet of channels, including their live babe channels.
Along with the lovely Charmaine on the first of these pioneering adult TV channels, was fellow hostess Samantha Jessup. Page 3 girl Debbie Corrigan and gorgeous Scottish lass and glamour model Kirstin Imrie were also featured. These well-known, very high-profile models, introduced the exclusively produced adult content on the Fantasy Channel. Enter Ric Porter, adult programme producer extraordinaire.
Welcome to Pornoland!
Ric Porter tells us, "I was initially brought in as a consultant but, because of my background in production, I was soon involved in the programming and day to day production for the Channel. All of the original adult programming was either specifically commissioned or shot 'in house,' and I became the Fantasy Channel's in house editor and producer, also doing occasional camerawork."
"Over time, The Fantasy Channel (reinventing itself variously as Television X and TVX) created other channels including Red Hot, which specifically featured amateur shot footage sent in by viewers (a kind of adult version of You've Been Framed!), for which I was producer, and editor. As an in-house producer, I was at the peak, producing around 30 series a year, comprising of 5 half an hour episodes per series."
The X-rated, pre-recorded content included Superdick, Shagnasty and Mutley, Charlie Britton Exposed, (Charlie was played by the infamous Ben Dover, who used to be the partner of Lindsay Drew, editor of Penthouse magazine UK), Diamond Geezers and Lara's Anal Adventures.
TVX Callgirls Live
Back 1995, the encrypted subscription channels were the only way to watch adult TV in the UK. This lasted all the way up until the early 2000's, when Babestation started in the general entertainment section of the EPG in December 2002.Now the adult encrypted channels had some serious competition. So, now things were about to get really interesting!
By 2003, the TVX holding company had hugely expanded and was broadcasting seven channels. There were plans to launch six further channels. According to Wikipedia, the business was described as "extremely lucrative" and generated £17m of the £60m operating profits of Northern & Shell. A website, fantasy121.com, was also launched as a complement. Television X 3 now launched a real babe channel with a difference in 2005, and it was called Television X Callgirls Live.
Ric Porter remembers: "Inspired by the success of the original call-based channel Babestation, the TVX bosses decided to launch their own version: TVX CallGirls Live. My then partner, the model and presenter Vicki Holloway, was given the job of managing and overseeing the project, with me as second producer. We had spacious studio space for this live babe channel, with separate vision mixing and audio mixing rooms. We hired a full crew of producers/cameramen, a vision director, audio mixer and text operators."
Coming up Next on TVX
In our next instalment, find out what happened on the newest of the babe channels, set to rival Babestation: TVX Callgirls Live! Ric Porter reveals the inside story of this freshly created babe channel of those times. And find out the top babes who featured on the channel in droves! Surely not Red Light Central regulars, Cathy Barry, Linsey Dawn McKenzie, or Bex Shiner to name but a few? Yep, and a load more of top names you know from your favourite babe channels like Xpanded and Studio 66. Don't miss the next episode of the history of TVX!