Kandi Kay is arguably one of the most well-known and sought after of the babeshow babes. She has always had a huge following and even now, we can classify her as a true superbabe!
In the early days, Kandi did a lot of glamour modelling for the lads' mags, (notably Nuts and Zoo) and for the Daily Sport. At just 5'4''. Kandi was constructed perfectly for success in glamour model work. Slim with large, natural boobs, an hourglass figure, and a pretty face. Plus, a real way of coming across to the camera and looking like you mean it.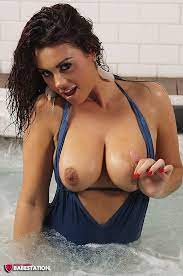 KANDI KAY EARLY BEGINNINGS
Kandi Kay used to simply known as Candy when she started out on the UK babeshows. At just 19 years old, her first babeshow date on her path to fame was on the 22nd March 2009, just after 1am. On that day, brand new babeshow Partyland had just gone on air. Partyland was the first adult show featuring topless babes on a Freeview babeshow broadcast, and on a UK licence too.
This was Partyland's first ever live weekend. Partyland brought forward what was then new, original hot talent, but also gave us some pretty quirky surprises. On this particular night on Partyland, Candy made her debut live babeshow appearance, featuring alongside that Lady of Babeshows and Porn Goddess Karina Currie, on Freeview Channel 50. Upbeat, sexy as hell, the pair did a short text chat session, then shouted out right away for a 2 for 1 call section. Coupling Karina Currie, with her sultry and somewhat posh London accent, and Candy with her lovely Liverpuddlian lilt, Partyland lived up to its name early on, with a 2 for 1 section that was guaranteed to please.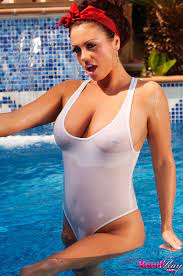 CANDY BECOMES KANDI KAY
Initially Candy was fairly reserved with her movements. But she very soon got the swing on things. Building confidence and making good friends with some of her fellow babes, Candy continued on Partyland, making a name for herself until 15th July of 2009. She then left the stage for a while, we think probably to pursue glamour modelling opportunities. A few months later though, Geri on BS extra announced the return of Kandi. And we do now mean Kandi with a K. And on 19th December, Kandi returned to our screens, this time featuring as one of the top babes on Babestation. At this time, Candy Sexton was appearing on the same set of shows. So, we think the name change to Kandi was mainly to avoid confusion, and of course for convenience for production, sales support and so forth.
In fact, it was November 2010 when Kandi finally became Kandi Kay for the first time and used the name which has since served her as one of the most memorable babes on the babechannels, with her own unique branding. Since her first appearance on Partyland, a lot had changed on the high profile babechannels. The girls had much greater freedom to play roles and satisfy the viewers fantasies. And Kandi Kay maximised this with a close to the edge style, wowing audiences and showing extreme daring, particularly in the 2 girl sections.
A BABE MEANT FOR BABESHOWS
The thing is, Kandi Kay was always really liked to walk the thin line. She loved to push the limits. There is something adorably earthy and naturally cheeky about her, but she also has a fiery side that gets the viewers burning and yearning. And Kandi really likes to do things her way. She was always particularly memorable for her 2 for 1 girl/girl sections. In these, she often seemed able to bring out real feelings with her babeshow partners. And she played with many of the best: Tiffany Chambers, Dionne Mendez, Dani On'Neal, fellow Scouser Louise Porter and more. Some of the sequences seemed like well-made art movies, with genuine sensuality and it was often Kandi that created this ambiance and energy with her babe partner on screen.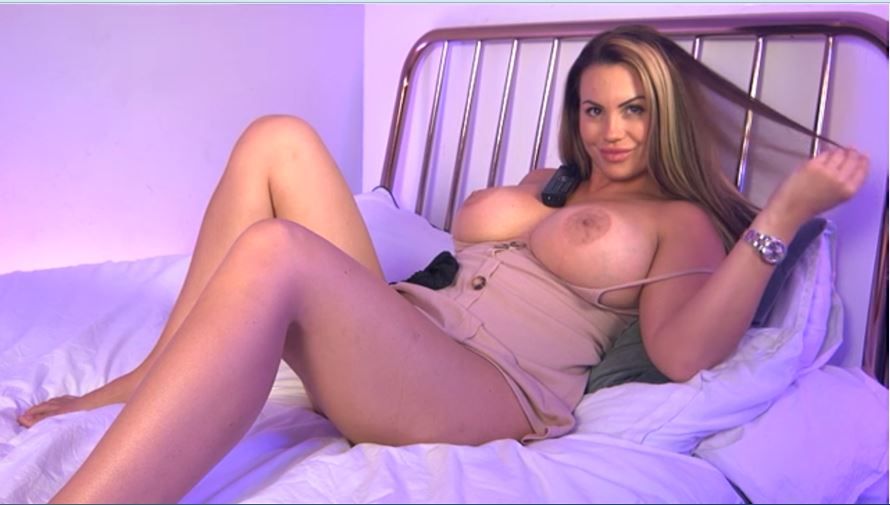 CHANGES TO BABESHOWS
In 2011, the formats of the Babestation shows were changing. New shows were trialled and a host of new-style, often amateur, talent known as "apprentices" appeared. The world of babes was diversifying and this experimentation and venturing into more amateur styles, did not always suit the superstar babes. Kandi was one of these and at the end of January 2011 she moved across to Playboy TV a.k.a Red Light Central, together with Ree Petra, Ava Blue and Ella Jolie. Playboy Tv Chat had just recently made its debut on Freeview. So, terrestrial audiences and Kandi's fans could still continue to enjoy her appearances. She remained with Playboy until July 2014, when she moved onto S66.
KANDI KAY: SUPERSTAR BABE
Over the years that she appeared on the Babeshows, Kandi built a huge fanbase. And her fans followed her wherever she went, making her a huge asset to any babechannel. Kandi Kay has natural charm and is simply as she is. She is unpretentious and has always said it like it is too. She has also battled for her rights, the rights of babes, the rights of the viewers, with production, management and much more. This daring nature more than anything else, makes her one of the babeshow icons. A real superstar babe. There is only one Kandi Kay.