Back in the day Sexstation developed a format called Flash the gash this involved at midnight taking of the premium rate phonesex numbers and showing the model full screen totally naked.
Well it seems that the producers over at the German Babeshow Babestation24 have developed something similar called the Peep Show.
The more things change the more they remain the same.
Peep Time
The Peep Time times on Babestation24 are largely determined by the director.
The peep time always starts at midnight, i.e. at 12:00 a.m. When the babes are also allowed to drop their panties. But even if the babes announce the peep time after midnight: before the director gives the final blessing, no panties should fall. This can sometimes be an hour or more after the start of peep time.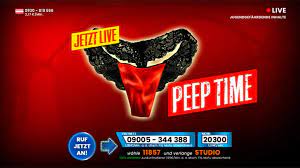 The director also specifies when the panties have to be put on again. If you watch the shows regularly, you can see clear patterns here. For example, you can regularly see one babe getting naked sometime after midnight, and then the other shortly after. What a coincidence that nothing happens for an hour after peeptime starts, and at that very moment two callers suddenly want to see their babes naked! In this case there was a simple directing instruction, "So, now you can get started".
Another scenario: A babe is naked, after 30 minutes she gets dressed again, and at that very moment the other babe undresses. Such coincidences only exist on Babestation 24.
Sometimes the panties don't fall off until 4 or 5 o'clock in the morning. This means that only 4 or 5 hours after the peeptime start does a caller want to see their sweetheart naked, which is statistically impossible unless the phone calls were fake and there were no real callers.
Peeptime
Die Peeptime-Zeiten auf Babestation24 werden großteils von der Regie bestimmt. Die Peeptime startet grundsätzlich um Mitternacht, also um 00:00 Uhr, wo die Babes auch ihren Schlüpfer fallen lassen dürfen. Doch auch wenn die Peeptime nach Mitternacht von den Babes angekündigt wird: Bevor die Regie nicht den finalen Segen gibt, darf auch kein Slip fallen. Das kann teilweise erst eine Stunde oder mehr nach Peeptime-Start sein.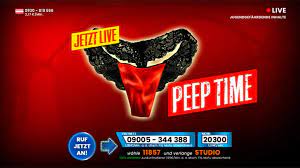 Die Regie gibt auch vor, wann der Slip wieder an muss. Wenn man die Shows regelmäßig beobachtet, sieht man hier klare Muster. Beispielsweise kann man regelmäßig beobachten, dass ein Babe sich irgendwann nach Mitternacht nackig macht, und kurz darauf auch das andere. Welch ein Zufall, dass eine Stunde lang nach Peeptime-Start nichts passiert, und
genau in dem Moment plötzlich zwei Anrufer ihre Babes nackt sehen wollen! In dem Fall gabs eine einfache Regie-Anweisung "So, jetzt dürft ihr loslegen". Anderes Szenario: Ein Babe ist nackt, nach 30 Minuten zieht es sich wieder an, und genau in dem Moment zieht sich das andere Babe aus. Derartige Zufälle gibt's nur auf Babestation 24. Teilweise fällt das Höschen auch erst um 4 oder 5 Uhr morgens. Das bedeutet, dass erst 4 oder 5 Stunden nach Peeptime-Start ein Anrufer seine Herzensdame nackt sehen möchte, was statistisch gesehen unmöglich ist, außer die Telefongespräche waren nur vorgegaukelt und es gab keine echten Anrufer.