In December of 2022 it will be the 20th anniversary of the UKs first babeshow . Here at Babeshows.com we want to pay tribute to all the babes, Babeshows, babe channels past and present. The good, the bad and the ugly we'll even talk about Ofcom. We'll have the babes who were associated with a single babeshow like Dani O'Neil, and Babestation or Danica with Studio66 TV, to the babes who moved from channel to channel. We'll look at short lived channels like Sin TV and Angel TV. Channels who were big players during their time but have disappeared into babeshow history, Sport TV, Babe World, Bluebird and Playboy Tv.
Its said that only Brazilian and models footballers like Pele, Ronaldo, Zico models like Twiggy can become known by a single name, babeshow babes can join those two categories with Fernanda, Danica and Evelyn. These models will forever be assisted with Studio66 or S66cams as it is now known. For those not familiar with Evelyn here is a video where she introduces herself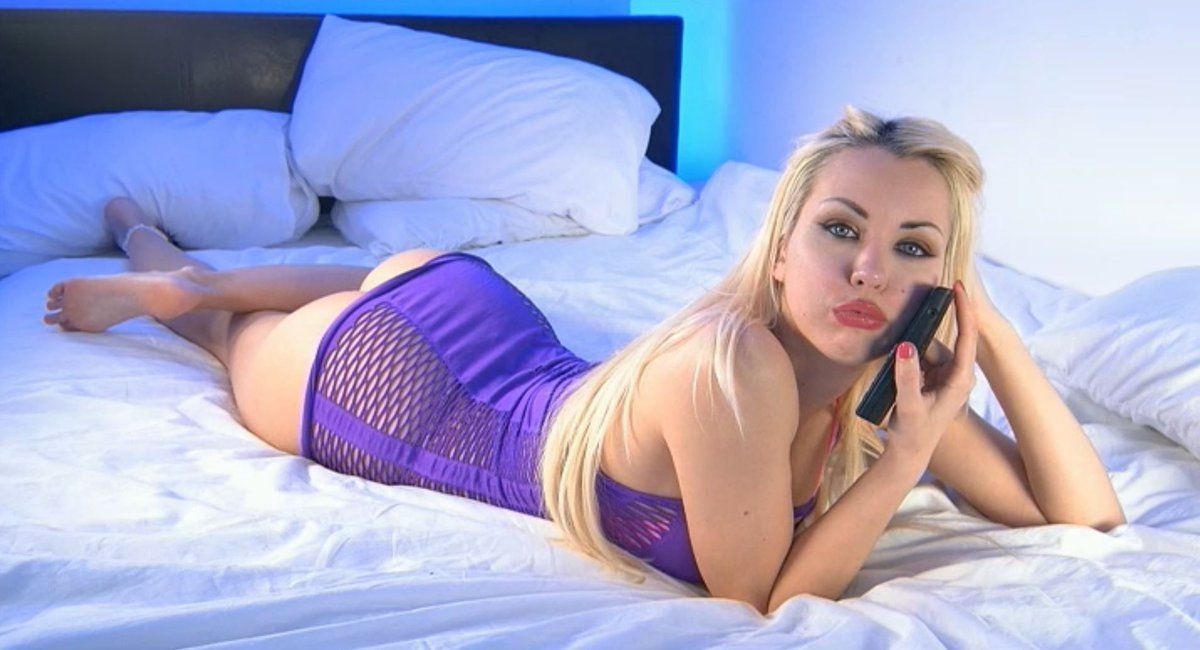 Evelyn started on TVX's Party Chat. Television X is more widely known as being one of the UKs longest running encrypted channels on Sky, Virgin and Freeview. But it did run its own babeshows, it was a case of if you can't beat them then join them. They also ran with much lower price points than the big babe shows this was done to try to damage their profits . It was here in April 2010 that the Ukrainian beauty Evelyn made her debut on the babe shows. She immediately caught the attention of the eagle eyed babeshow fans and they especially loved the cheap phone sex of Honey TV which was 35p a minute. One Babeshow Forum contributor wrote:
Evelyn was the recipient of my first ever call. Couldn't resist at 35p a min. seems to have a beautiful personality to match her stunning looks. very accommodating for a naughty call & real open & down to earth for a good chat. forgot to ask where she's from but i'm pretty sure its somewhere in eastern Europe. Anyway, it's her birthday tomorrow guys so wish her the best. happy birthday Evelyn.
Bang Babes As predicted by the babeshow forum poster it was only two months before Evelyn was snapped up by one of the bigger babeshows making an appearance on bang Babes The Pad.
Fans compared her to Christina Aguilera !! and as she appeared more and more on the babe channels her confidence grew and her sex appeal sky rocketed.
Been watching Evelyn all afternoon now and I can honestly say, WOW She seems to get better and better with every performance. The outfit she is almost wearing is one of the sexiest ever I swear those tiny panties are only just covering everything Every time she gets on all 4`s I sit up and hope for a little slip Absolutely mesmerising. Definitely moving up my top 10.
Unfortunately, this was a time when there was a lot of attention from Ofcom the television regulator. And Bang Babes gained a reputation as the bad boys of the industry and ran a foul and received some large fines which forced them out of business.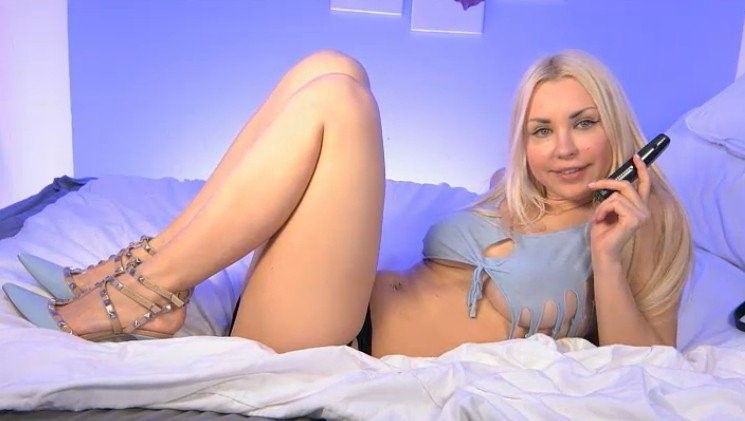 Paradiso
It was a surprise on the 21st January 2011 Evlyn made her debut on Club Paradiso one of the smaller babeshows on sky televison. Run by a character called Bob Paradiso RE: Evelynn chat and non babeshow pics Now then, I see a couple of you have Evelynn as your profile picture. I assume that these are derived from a larger photograph, containing more of her body and FUCKING SEXY legs.
Maybe even boobs.
Some fanny perhaps.
So that I may see what is on offer, may you point me in the direction of these photos?
Google offers nothing.
Basically, can you link me to some fucking stunning photos of this smoking bird. Cheers my dears.
But it was only too be a month that Evelyn was at Club Paradiso and the she was snapped up by the Man City of babeshows Bluebird.
Bluebird Bluebird was a chaotic channel in its early days' money was spent like there was no tomorrow. Evelyn settled in and enjoyed her time at Bluebird TV. The years are shrouded in mystery as the forum wasn't allowed to post about Bluebird after a dispute between the forum and the channel. At Bluebird Evelyn was able to finesse her sexy naughty chat and build up her fan base, this would all come to fruition at Studio 66 Tv (S66cams). In October 2013 Bluebird came to a close. The end of Bluebird TV Bluebird TV has ceased broadcasting. It's final broadcast was on Thursday 17 October 2013 making her debut on the 1st of November 2013.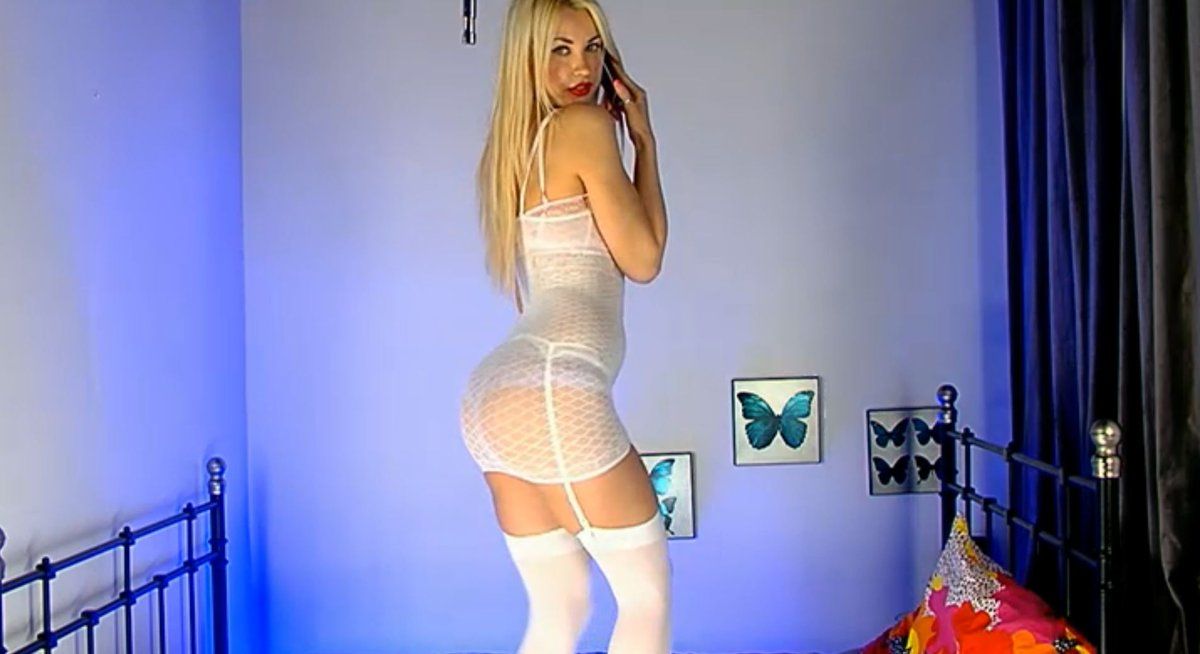 Studio 66 On the 14th October Evelyn signed for Studio66 TV. Post: #5 RE: Evelyn - Chat, Caps & Vids Great news if it all works out. I might just get my wish from the other day of seeing "Theee" one & only Evelyn on studio 66 webcam, this could prove to be my Birthday and Christmas present all rolled into one.
Whilst the Ofcom regulations had created a new operating environment that meant Evelyn couldn't perform to the same levels on TV as she had on The Pad. The introduction of cams and later pervcam meant that her fans wouldn't be disappointed.
Evelyn's Pervcam sessions would become a masterclass in the exploitation of the new medium Evelyn is the Pervcam Queen. Evelyn Pervcam two words that will forever be associated together. Evelyn is able to tease on the Pervcam for hours driving viewers crazy
The Forum Contributors went crazy for her: Saw the end of her perv session today, she didn't show anything explicit but she did rub her panties & talked dirty with one of the members (Insanely hot!). She also said, when one of the users asked if she could show more, quote "your never know, i don't know what to expect from myself when i'm getting excited he he" and she looked very exited both on TV & on cam to me. Maybe she was teasing but I'll be optimistic & take it as a sign that she is slowly progressing towards showing herself more & more. People are willing to pay big bucks to see her naked & after seeing how much attention she is getting atm, I'd bet both her & the producers are very hungry for the potential £££££.
Looked like she was fingering herself tonight before her session ended. Close shot of her face, her hand down her mid section out of shot, her eyes all rolling back and squinting, her mouth open while her arm moves back and forth. First time I've seen something like this from her!
That top on Saturday was shatteringly sexy.
The best dayshow I have seen in about 5 years, no kidding. The period from about 1830-2200 was mind-blowing and load blowing.
Shandyhand wrote a review of Evelyn's Pervcam show in 2017 which captures the magic of the babeshow Queen: We got another stunning display from Evelyn last night. She has her crowd dancing on a string now in a way that's really impressive to witness. I'd call her The Puppet-Mistress if that didn't conjure up dodgy images of a lame domination routine! There's no need for the gimmicks of such forced relationship from this woman. She has built a loyalty and respect from her audience by giving genuine effort and the right kind of predictability in her work.
Watching her follow through on her statement of a post-9pm show two Friday's ago, with efforts equally as stirring on both weekend shows since, has been if anything even better than seeing the initial effort.
Evelyn has really stamped her TV colours to the mast here: Give me calls and cammers and you can have me like this every time she seems to be shouting atm.
This is what I always talk about on the forum: The right babe in the right circumstances... Give a babe with Evelyn's mindset a reason to go with a commercial momentum and she will oblige in spades - to the limits of TV and a tiny bit more at times.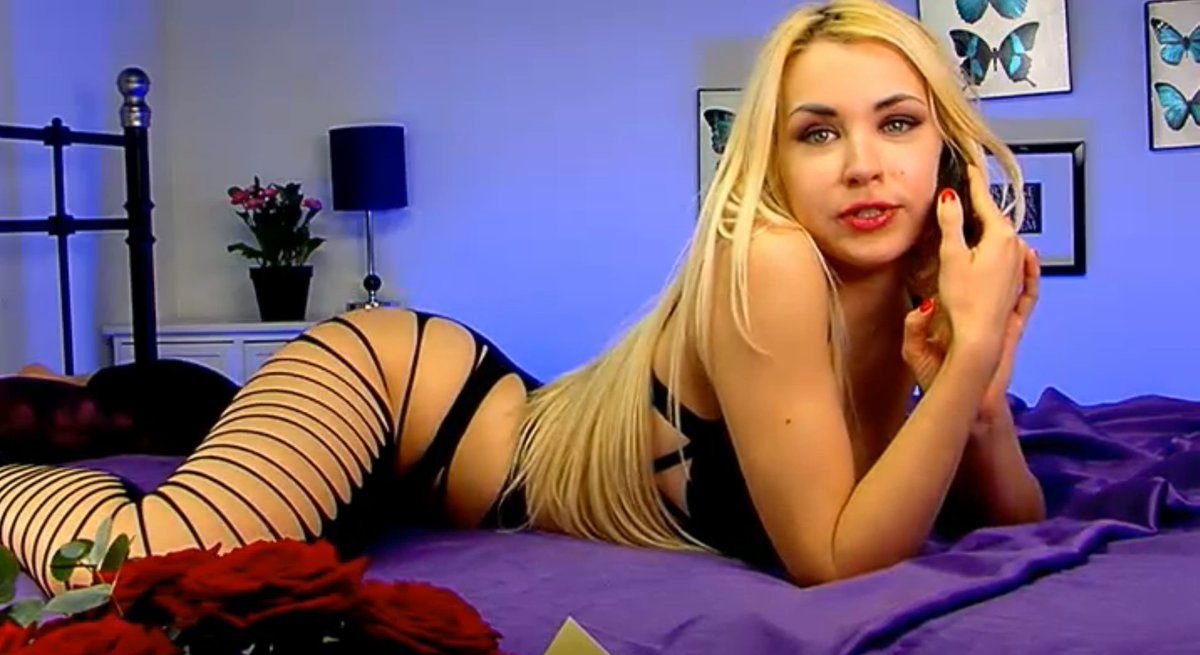 You can tell by the haste with which she enters the later hours of the shows in question that she means business; whipping those peachy arse cheeks about, dipping her top to daring exposure in a variety of poses and, latterly, even letting her thong back be known to us from its obviously too restricting confinement in one of those ultra short dresses that just keep riding up all by themselves! It's a splendid seduction routine pursued with an alacrity and gleeful relish that we've all been praying for for so long from her. And not a millimetre of tape or pastie on sight to spoil the suspense.
For a tiny signal of this women's reclaimed intent, see the speed with which she frustratedly changed her phone batteries straight after her first post-9pm call on the 9th. This is a babe that wants to get on with stoking guy's fire on her calls and, by extension, with this new phase in her time on the shows. (We can I think accept her somewhat sub par showings on the nights of the 6th - down to irritation from missed breaks and a pushed back evening meal apparently - and this Monday where there was no After Show to look to.)
It's such a joy for the dayshow fan to watch a babe so eager to twist her audience round her little finger. Long-term guys were well aware of Evelyn' abilities - her confidence in that petite lithe frame and the temptress movements to back it in achieving her aims. Now she's proving it to newbies at last.
The small sections sans pervcam, of course, give a generally greater freedom to that expression but it would be churlish to complain too loudly about the cam when Evelyn makes sure the visuals there have their own very valid appeal and it brings her into several suggestive poses on TV all the same.
Fact is, there's so much on offer all round from this babe now and she is working it so well once again. Whether she's affecting a coquettish innocence, with that delightful lip bite, or the sort of knowingly mischievous smile normally seen on a rogue male in an all-girls college dorm, her mood can't help but be reciprocated in every red blooded male in sight of her. The devilishness is utterly captivating and intriguing. Guys can't help but play along.
In this form, Evelyn is simply very difficult to ignore. You wouldn't bet against her continuing in a similar vein for a good while yet thankfully. Who knows what that might bring us.
2021 saw Fernanda hang up her thong, Evelyn continues with her shows though they are not as many as there were back in the day. Hopefully she will continue to turn on and entertain her many babeshow fans. What is S66 Cams? S66 Cams is home of the best and most popular cam girls in the UK. Following on from Elite Tv it became Studio 66 TV, and now the channel is called S66 Cams. You might have even seen it on Sky and Freeview babe channels in the UK. However, you can now interact on the internet with the cam girls of S66 Cams, where the on-screen girls can get filthy and horny with you. On the web they can show you so much more. On S66 Cams you can catch and chat with the amazing babes like Fernanda Ferrari, Lucy Zara, Caty Cole, Georgie Darby, Jada, Jennifer Jade, Maxie Rhoads, Evelyn, Ella Jolie, Charmaine Sinclair, Faye Rampton and so many more. These babe show babes love having filthy phone sex and private cam shows with you 24/7. And as studio 66 cams is online only, these babes will get even more filthy with you than they can on TV. The great thing about S66cams is that in the evenings they have so many beautiful British MILFs like Sarah Daniels, Lucy Gresty and many more. The Cam MILFs love getting filthy with you. There is nothing they won't do for you. So, grab your dick and call the beautiful babes of S66Cams. They love it when you watch Studio66 TV and call them for live phone sex.
There have been many great arses on the babeshows; Ashley Emma, Nicole Snow, Priya, Paige Tyler, but Evelyn has surely got one of the best booty's on the babeshows. Here is a tribute from a babeshow fan: Can we get back to glorifying Evelyn's incredible body and the way she deploys it?
Some of the arse work I saw last night (I was very very late to the party due to work) was absolutely excellent especially the placement of the skirt to maximise the emphasis on her hips and gravity defying curves of her fabulous buttocks. Scrunching it up as narrow as possible and then placing it across the widest part of the hips was a masterstroke. Crack visible above and below, as well as the insanely sexy hollow created by the lumbar lordosis in the small of her back. Utterly sensational.
I would love to see more of her arse and back presented directly to main feed camera. She has done this fleetingly before for requests coming from callers and it's been absolutely magnificent. Another babeshow fan, Rake goes onto compare Evelyn to the likes of Bridget Bardot, Debbie Harry from Blondie and of course Marilyn Monroe:
Evelyn, with her presence, charisma, looks and sensuality is - and I think this is no exaggeration - the latest in a line of archetypal women. A rarefied and special group, from which a new standard bearer only seems to emerge once every couple of decades. It includes Brigitte Bardot Debbie Harry, and before our time, Marilyn Monroe. They are an archetype with primal sexuality and magnetism.
Evelyn combines qualities of her predecessors: the mouth and pout of Debbie, the bust of Brigitte and the overall sensuality of Marilyn, while adding her own contemporary elements. She at once both continues, and also develops the archetype.
Evelyn's privacy and the vacuum of knowledge about her life outside of 66 is actually part of her appeal: we are left to fill the vacuum and project our fantasies of what she does and is like in real life and in doing so, we cannot be disappointed. Watch S66cams here!
While you are here, you might want to have a look at all the UK phone sex babes we have ready to chat with you. Studio 66 tv phone sex babes on screen are naughty sex chat women that want to wank with you. If you are confused about S66cams, then it used to be called Studio 66 TV, so watch studio 66 tv now. Evelyn S66 Webcam free sex videos.