We can't revisit some of the best ever UK babe channels without mentioning Babecast! After the initial success of Babestation, Babecast was one of the very early babeshows. Launched in 2003, It bought with it a host of brand new and very hot talent. Some of the babes from Babecast became truly big names that we still know today.
Here, we take a trip down memory lane and revisit Babecast history.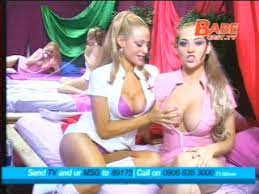 FRIENDLY STUFF
Babecast was launched on Friendly TV, which was much publicised for "The Nicole Kidman incident" the same year. After running a poll about Nicole Kidman and inviting viewers to text in to give their opinion on the morning show, presenters Paul Lavers and Karen Witchalls went to a "break." This consisted purely of the camera zooming into the text screen. (which incidentally had no pricing on it). Unfortunately, the presenters forgot to turn their mics off in the background during the break. So, they went out live on air, while discussing their personal views that Nicole Kidman was in fact a lesbian!
Although the incident was accidental, it actually did help the channel's viewership, as there was extensive reporting on it in the national press. Friendly TV lived up to its name. Friendly, fun and oopsy, just that kind of attitude that makes you love them even more. This is the backdrop against which Babecast was born.
THE BIRTH OF BABECAST
What was interesting about Babecast among all the babe channels such as Red Light Central or S66, is that initially it featured some hot talent from babes featured in the Daily Sport. Again we go back to the days of page 3 and the sport girls here, where you used to see these babes in pictures, but rarely ever saw them live on TV. Now you could see these truly top models on a live babeshow and even get to talk to your favourite topless model live.
In the run up to Babecast beginning, it is a babeshow legend that David Sullivan himself picked out top babes to star in the show. Many of the chosen girls were hugely well-endowed in the breast department. Days before the first show began, producers had no idea who was going to appear. Usually at the launch of a babechannel, there is a lot of preparation and some briefing, not the least some deep discussion about compliance for the babes regarding they can and can't do on screen. But due to the "celebrity status" of the first Babecast babes, everything happened at the very last minute, and in some cases, perhaps didn't happen at all!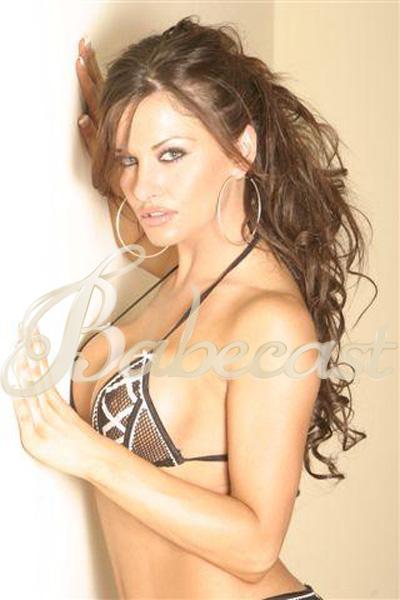 The first nights of Babecast were a romp every time and had quite an uncontrolled feel to them. This of course made them pretty exciting! At this time, girls could kiss and get tonguey, use props like bananas and squirty cream and action was often fun, lewd and the phone sex was full on. Scenes of girl-on-girl spanking until the babe's bottoms were red, were also quite common.
Babecast was also known for its original "heavy curtain set." It had its own look which made it stand apart. This clip from a little later shows a show reel by Dionne Mendez. Later, Babecast also beamed in live babes from Prague in the early hours of the morning. This bought gorgeous eastern European girls to the screens of many, for the first time.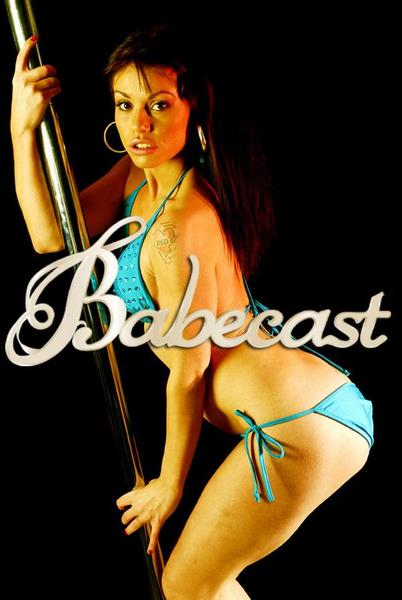 BABECAST BABES
Here are some ex babestation girls and babeshow names that might surprise you and others that might blast you back to the past. Sky, Sammi Rhodes, Camilla, Candy (Kandi Kay), Carmen and Gemma, Dionne, Jennifer Keelings, Morgan, Denni Tayla, Reede Fox, Donna Duke, Sahara Shakur, Heavenly, Adora, Jemma Jey (who we think had her babeshow debut on Babecast), Freya, Tara, Raven, Emily Dean, Holly James, Jane Smyth, Talulah Thomas , Vikki Valentine.
BABECAST RAISES MORE THAN EYEBROWS
So, in many ways, Babecast was also daring and a pioneer among the babechannels. Yet, clearly with all this going on, plus some really high-profile babes, notably Linsey Dawn McKenzie, who was at the time a big name, Babecast soon drew the attention of OFCOM, and this happened on several occasions.
As one example from their Bulletin of 2008, Ofcom stated that "between 21.00 and 22.30 the presenters, dressed in very revealing underwear and appeared to simulate various sex acts. The "babes" thrust their buttocks towards the camera, opened their legs wide apart to emphasise their crotches, and the presenters in general were shot in a physically intrusive way… it is our view the combination of images shown and the presenters' actions amounted to highly sexualised content, real or not."
And thus, ultimately, such was the downfall of Babecast. Later, Sex Tv was a brief extension of the Babecast channel. But eventually, it too was integrated into the Babestation brands.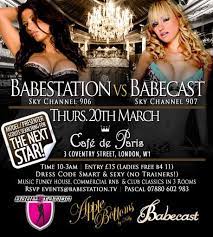 In March 2008, Babestation and Babecast held a great party event at the Café de Paris in London and that was the last time we know of that they were visibly seen together in public. Yet even today, Babecast remains a testimony to babe channel history. One of the originals and one of the best.