Kissing on the Babeshows? Many practices which used to be common on the UK Babe channels have since vanished. One example is "Spanking," which was always a risk for complaints, even an invitation for lawsuits! But this aside, spanking also caused issues between the girls, as well as giving people the wrong message. During 2009, one model who was live on air, responded to a texter's request. She revealed that she had signed an agreement, which stated that that she could not spank any of her fellow Babes again. This followed an unrelated case, where two girls had been separated into two different shows, after a spanking incident went wrong. Quite frankly, anything that could potentially turn into an assault was always a stupid idea. Spanking never had any place on the Babeshows at any time.
KISSING and TOUCHING
The channels need to be very careful when it comes to the Regulator. This is particularly when the show content can be interpreted by any member of the public as being sexual. This in turn applies even more, since Ofcom reclassified the shows as being "Teleshopping" and imposed new guidelines. Some activities are therefore less easy to assess than spanking. To cite some examples, kissing, touching, or sucking are all practices that can loosely be described as sexual acts. The channels have a duty to protect their models from any unacceptable conduct. In a live broadcast, there is also a certain pressure on the girls to stay professional and therefore possibly, not to raise objections to their behaviour. Thus, the art of seduction can become a grey area. On a live show, there is no editing, no mime, no fantasy. If a Babe kisses one of their colleagues, the very act of doing so, even though it may not contain any emotion behind it, is very real.
SOME BABES LIKE IT
Any kind of physical contact potentially brings risks with it, as well as possible reprisals for the employer. Some people would also challenge the fact that kissing, touching and so forth, are actually a legitimate part of a Telephone model's job. However of course, some TV Babes don't object to kissing or being touched by their fellow Babes. We can even say that some duos have some amazing chemistry and have certainly seemed to be enjoying themselves in the girl-girl sections. Some excellent examples of this are Babestation's Camilla and Georgie, who almost had to be pulled apart by the backstage crew. In their joint section, things were getting out of hand in their lip-locked "get a room" show piece. They even missed their Babe show producer's cue to talk on the mic. Even after the countdown, the two girls were snogging obliviously, as the producer repeated the word "one" in an increasingly loud fashion to try and draw their attention. Finally, they realised and took notice.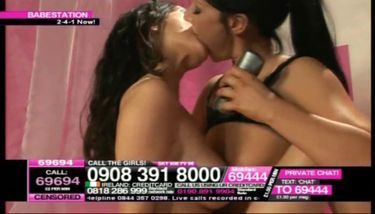 BABESHOW LIVE KISSING
It's quite clear that Georgie seems to have featured in many kissing incidents. One that springs to mind is a kissing frenzy Stevie Lou Ritchie, but she isn't the only one. Looking back, its surprising how many big names did kiss on the shows, back in the day when this conduct was allowed, even at times encouraged. But there are many memorable kissing moments from the Freeview shows, and they include Aimee Luis and Amanda Rendall, Darryl Morgan and KandI Kay to start naming just a few. And let's not forget Dionne Mendez., who also got it on with Geri and also Kandi Kay on Babestation 1 in a memorable kissing display.
KISSING NOW AND THEN
Kissing and touching went out with the reclassification of the channels as being Teleshopping in 2010. It didn't stop altogether overnight, but by 2011, it was rare to see two girls kissing and by the beginning of 2012, kissing on screen was but a distant memory. We do know that many of the fans miss this, but what about the girls? The answer is probably some and some. Some girls probably did miss the spontaneity and also the fact that it was a useful tool, commercially speaking. Others who had always balked at the thought of it were probably delighted to see the back of it and were grateful to see it banned for good!