A lot of weird stuff can be observed during a flight and this story from a tiktoker has divided opinion. Sandy Prudente was midway through her flight when she spotted a male passenger watching porn as his girlfriend caught a few Z's beside him. Sandy decided to capture the guy in the act and subsequently share it with her followers on tiktok. The video quickly gained momentum and went viral, amassing over 3 million views. Pretty unsurprising really, considering how much people love messy tiktok, myself included. Check out the tiktok video here
The footage showed the guy in question watching a TikTok video featuring two bikini clad women, but Sandy mentioned in the caption that the dude was also watching Pornhub. The caption said: "It was more explicit — TikTok is not just what he was watching right now." She added the hashtag: "#TrustNoGuy." Unfortunately she didn't have proof of the guy watching Pornhub because tiktok doesn't allow X-Rated content under its guidelines & violations.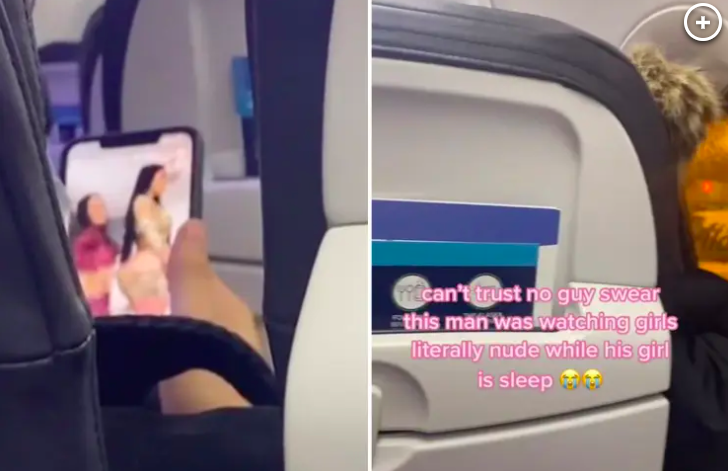 Sandy's video sparked outrage among women, who were furious at the guy's brazen behaviour. One person commented: "If you don't respect your girlfriend just say that!" Another woman wrote: "You should have woken her up and handed her your phone with this video playing…"
However, others responded with fury and said that Sandy was in the wrong for filming the guy without his knowledge. Many people insisted that there was nothing wrong with a man watching porn, even if he was in a relationship. One commented: "Maybe they have a healthy relationship and she knows what he watches. Therefore he doesn't have to hide or be sneaky about anything". Another person replied: "My husband goes to a strip club. He still comes home at the end of the night. It's not deep."
Meanwhile, others accused Sandy of invading the man's privacy and told her to "Mind your own business." I'm inclined to agree with the latter comment. Sandy should probably have just put on her free eye mask and gone about her business. All I would suggest to the dude is that he switch off Pornhub and browse through the Babestation VIP galleries instead.