A math instructor who has been posting videos of his tutoring sessions to PornHub has found that he's really tapped into a niche way of teaching. Taiwanese professor Chang Hsu, also known on the porn streaming site as "changhsumath666," has amassed nearly 7000 subscribers on his channel, putting him in 685th place on PornHub, which is a pretty wild accomplishment given that none of his videos feature any explicit content whatsoever.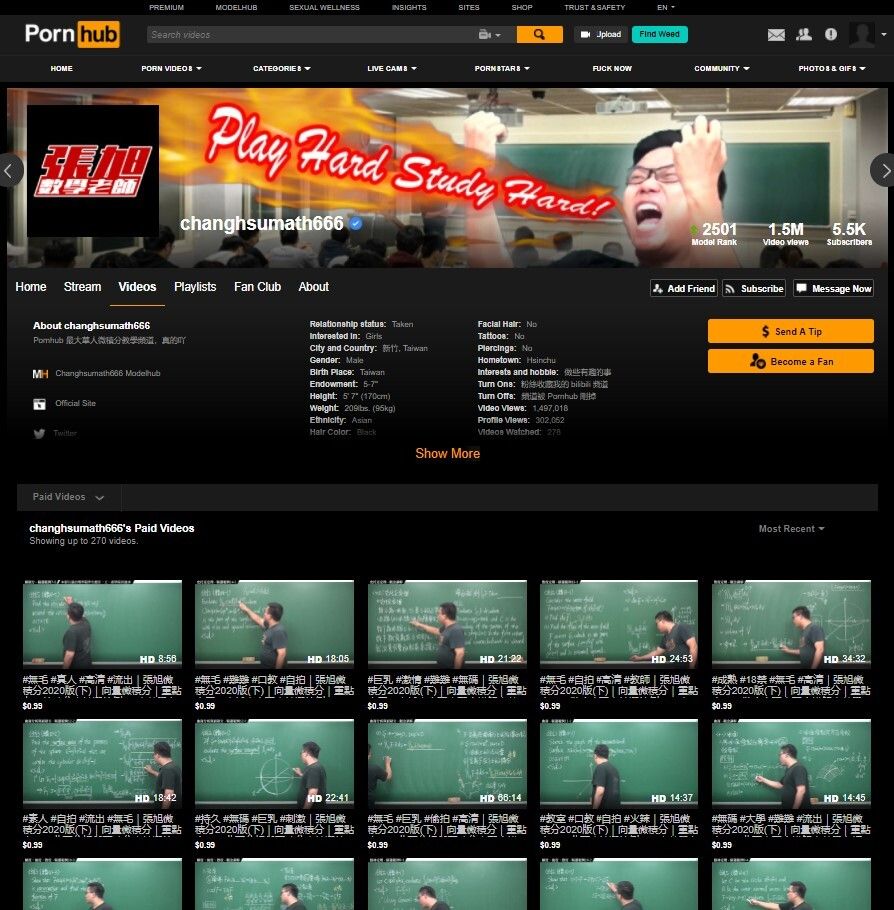 Since he began uploading his maths lessons to the porn site in May, his videos have gone on to receive a whopping 1.9 million views. In the videos, Chang can be seen standing in front of a vintage blackboard while he works out and answers arithmetic problems. He's fully dressed in an outfit you'd expect any teacher to be wearing. Chang uses the slogan "Play Hard, Study Hard" in his videos which really seems to have struck a chord with his viewers. So far he has uploaded 226 video lectures that run for just over half an hour each. When asked "why Pornhub?" Chang told a Taiwanese newspaper that he is simply putting "special things in special places."
Along with his teaching job, Chang also offers private tutoring. Not like that…you dirty fuckers. Chang claims that ever since he started posting videos to PornHub he's received an influx of students interested in taking his private maths lessons. Chang told the Daily Star: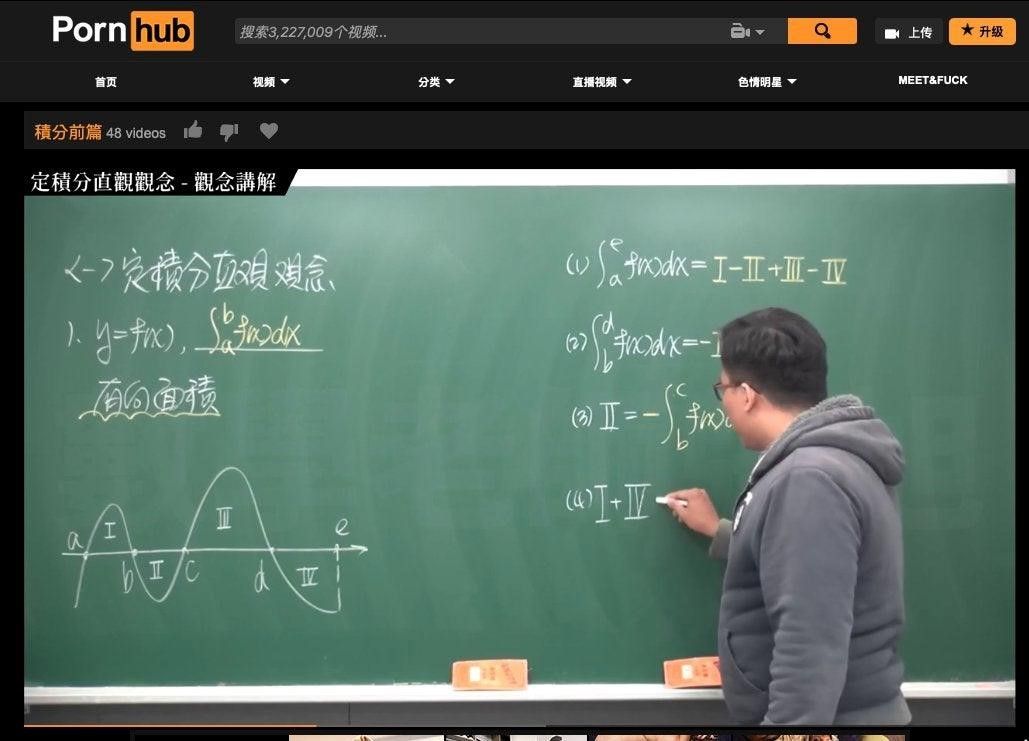 "The online teaching market is highly competitive, and I can now attract 1,000 students each year, compared with an average of a few hundred for a calculus tutor. I asked myself where to find my target students, say college boys, and the answer popped out: adult video platforms."
Let's be honest, the guy clearly knows his audience. He's not the only person to use Pornhub to market their own business. Recently, the town of Ilkley, North Yorkshire, pissed locals off when a pink car with "Pornhub casting car" emblazoned across it was seen cruising the neighbourhood. I mean, that's totally different to the maths videos because you're shoving it in people's faces so I see why locals weren't happy. Pornhub denied any involvement in the pink car and have assured residents they'll be looking into the issue.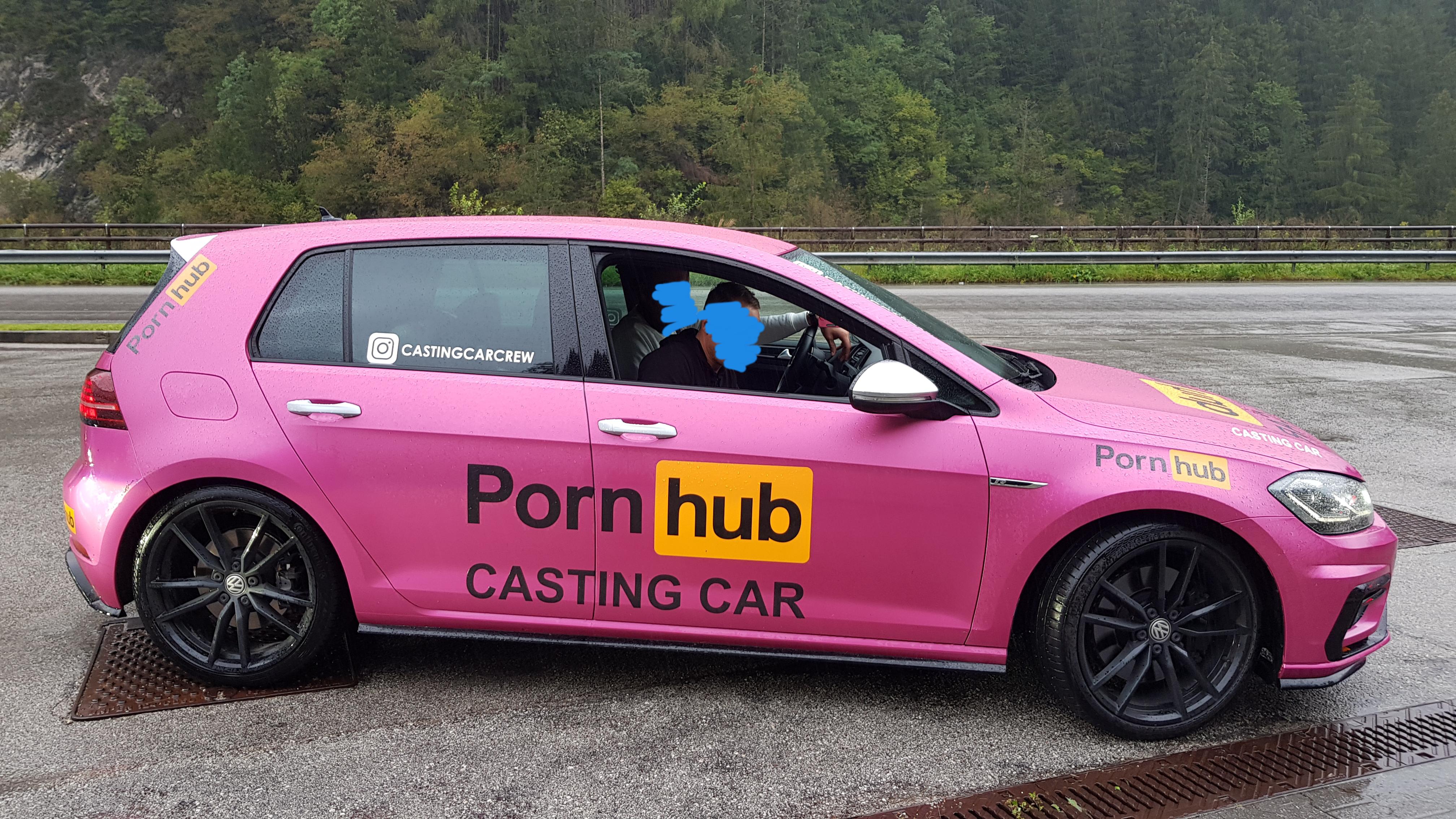 I wonder if the live babeshow models will start uploading unrelated content to porn sites? I can picture it now - 'Atlanta Moreno finds treasures in her attic', 'Beth Bennett's bloopers' and 'Macy Kate shows viewers how to remove the coffee ring from an oak worktop.' Maybe we'll try it and see how it goes.
For nude videos of the babes in various states of undress, solo masturbation and girl on girl action, sign up as a VIP member where you'll gain access to spicy content and receive offers for cheap phonesex. Alternatively, browse the girl's individual profile pages to engage in a private cam show with a hot mature British pornstar.