Today, we pay special homage to the princess of British porn stars, Michelle Moist. For many years, Michelle has also proved extremely popular on the live babeshows. She was also a winner of the UK Adult Film and Television Awards back in 2008. But, did you know that Michelle was also a Top DJ? But not only that, she's a genuinely nice kind of girl, as well as being one of the leading lights of the British Porn industry and of the babeshows. Michelle Moist has it all!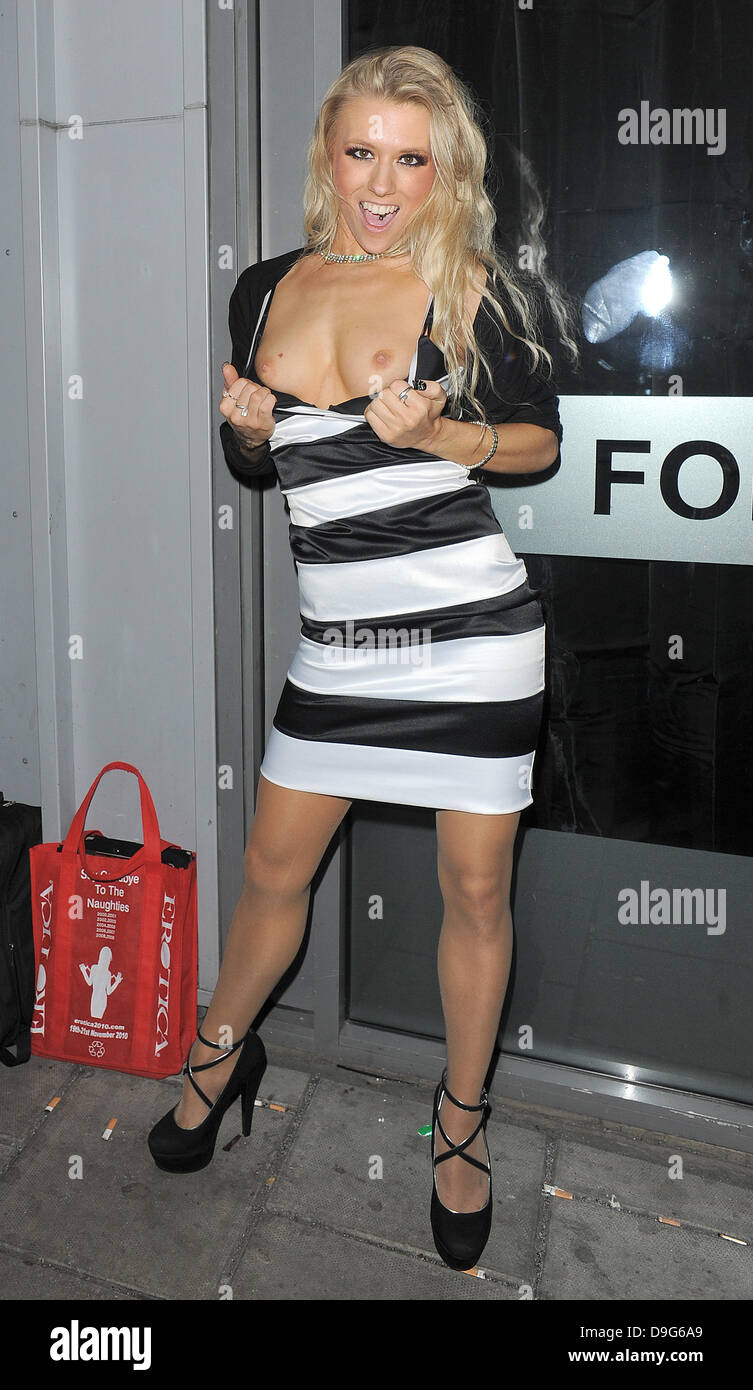 NATURALLY MOIST
Michelle stands out as being one of the nicest and most approachable babes ever. She has always open, honest, straight forward. As one of the guys on the babeshow forum threads said "Moisty may be posh totty but she's a down to earth sort of girl as well. The sort of lass who would be up a laugh and a joke with the lads during a heavy session down the Knuckleshuffler's Arms."
Backstage at Babestation, Michelle was always kind, generous and friendly with the other girls. She would also often have moments of quietness on her own. In fact, once you got to know her, you could barely believe she was a top British porn star. Yet, she had been in plenty of hard adult films, starring in numerous international and British porn movies and was well at the top of her game by her early 20s.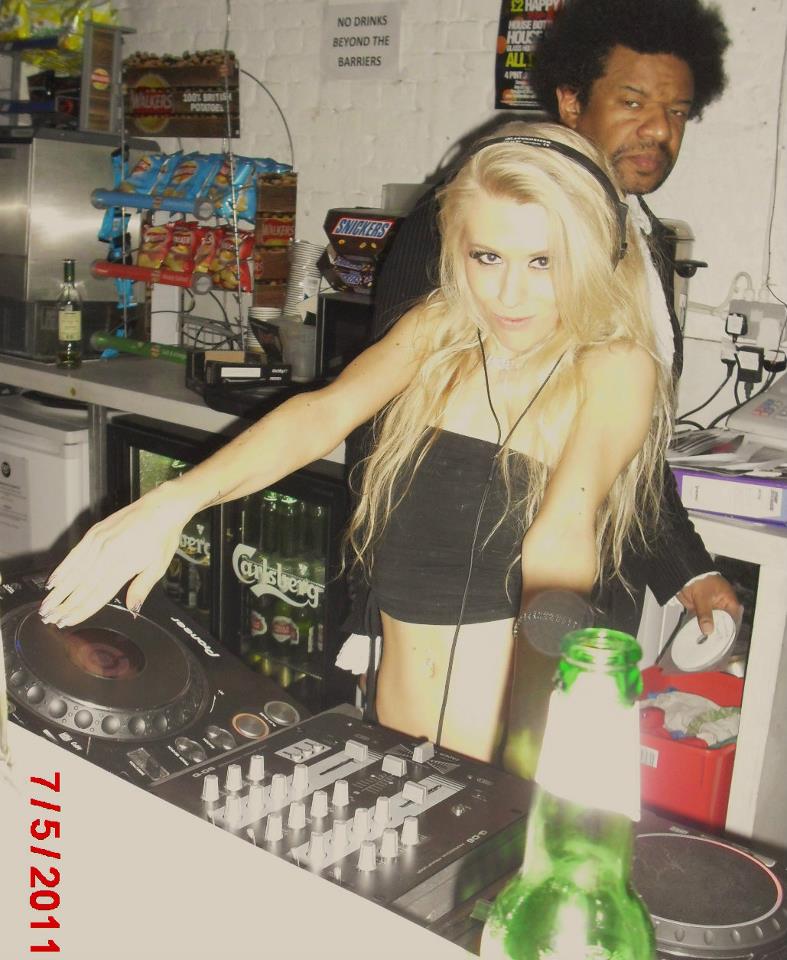 DJs and BJs
To begin with Michelle Moist had been a top DJ. According Everipedia, "Until 2009 she was a DJ and studio manager for the internet Radio and TV station Phatbeats, under the DJ name Lady Buzzkat. She left Phatbeats claiming her involvement with the station clashed with her growing workload in the porn industry." In reality, Michelle was an excellent DJ playing on radio, at raves, private parties, clubs and more. And she could also sing her little heart out. She has always been a natural artist and performer and she was always destined for the public eye.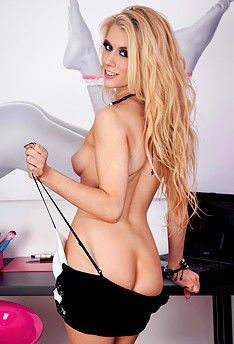 MICHELLE MOIST: PORN STAR EXTRAORDINAIRE
When I first met Michelle, it was behind the scenes at Babestation. I had no idea who she was. She was sitting quietly and was not wearing any makeup, and as fresh, pretty and about as innocent-looking as you could get. When I realized this was Michelle Moist, British porn star extraordinaire, I seriously had doubts as to how filthy her films might actually be. She looked more like a beautiful, virtuous, virgin that a prince might want to marry, than a top babe and British porn goddess with a filth factor of 10.
But, once she was dressed and made up ready for action, Michelle was an absolute natural as a porn performer. Using her youthful looks, she starred in a few teen and college girl porn films. But then she was just as capable catering for foot fetishes in Footsie Babes, as Mistress Moist the Dominatrix, or just doing straight and anal sex in every way possible. She used many of these fortes live on the Babestation shows, showing her slim, lithe body off to a T and playing the perfect porn actress to suit her outfit in every section.
When on set, the only thing was you sometimes had to keep Michelle under control and remind her that on the babeshows, no you could not stick your hand down the front of your pink lace panties. Or, no you couldn't just pull your thong aside and show people everything you've got, simply because you are genuinely carried away with the moment.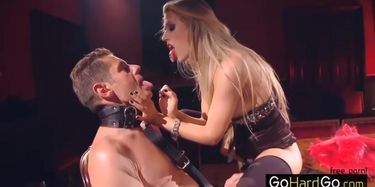 CHOOSING HER STUDS
In fact, Michelle was a double-edged sword in many respects. The nice girl who was the ultimate sex-partner, whatever your needs. Still, even after I got to know her, I still couldn't imagine how she could have sex with so many men in reality. She was just so down to earth, friendly and well, nice? So, one day I asked her. "Oh darling," she said (she always called me darling") "It's not like you might think. I always choose all of my studs for the porn films I appear in very carefully." I can't say that really put everything into perspective for me and when I saw her in action in one of her greatest porn films, I still had to wonder how someone so sweet was such a complete natural as a hardcore porn star as well.
But I guess that was Michelle Moist all over. Unlike many other of the top babes, Michelle had a completely slim and totally natural body, seemingly without doing a thing to maintain it. She didn't seem to go for have any facial treatments. She cared for herself and body, but had no ego about it, she gave herself no admiring glances in the mirror. She was just happy with what she looked like and who she was. In fact, often she would eat anything she fancied like a horse. As far as I know, she didn't do the gym or have to work out with different sporting activities every day. She was naturally slim, beautiful and energetic. She loved to walk around and that was about it.
THE ONE and ONLY MICHELLE MOIST.
To me, there is only one Michelle Moist. If ever there was a person who was destined to be a successful porn star it is her. Among all the babeshow babes, she shines out like a very singular shining star. And if you meet her down the pub, buy her a drink and get chatting. You will remember that moment in your life forever.