FIRST LADY OF BABESTATION
I first met Dani O'Neal behind the scenes at Babestation. She was putting on her makeup, lining her large, exotic, almond shaped eyes with black kohl. All dressed and ready to go live on Babestation.
"Hello Gorgeous," she said to me "Are you a new Babe?" I explained that I was there to help out behind the scenes. Dani stood up from chair, tall, powerful and with an enormous presence in her 5-inch heels. "Well," she said with a dazzling, sexy smile, "You look a bit of alright to me!" Then she adjusted the cups of her bra, arranging her ample boobs, took one last look in the mirror and strumped off onto the set to wow the viewers.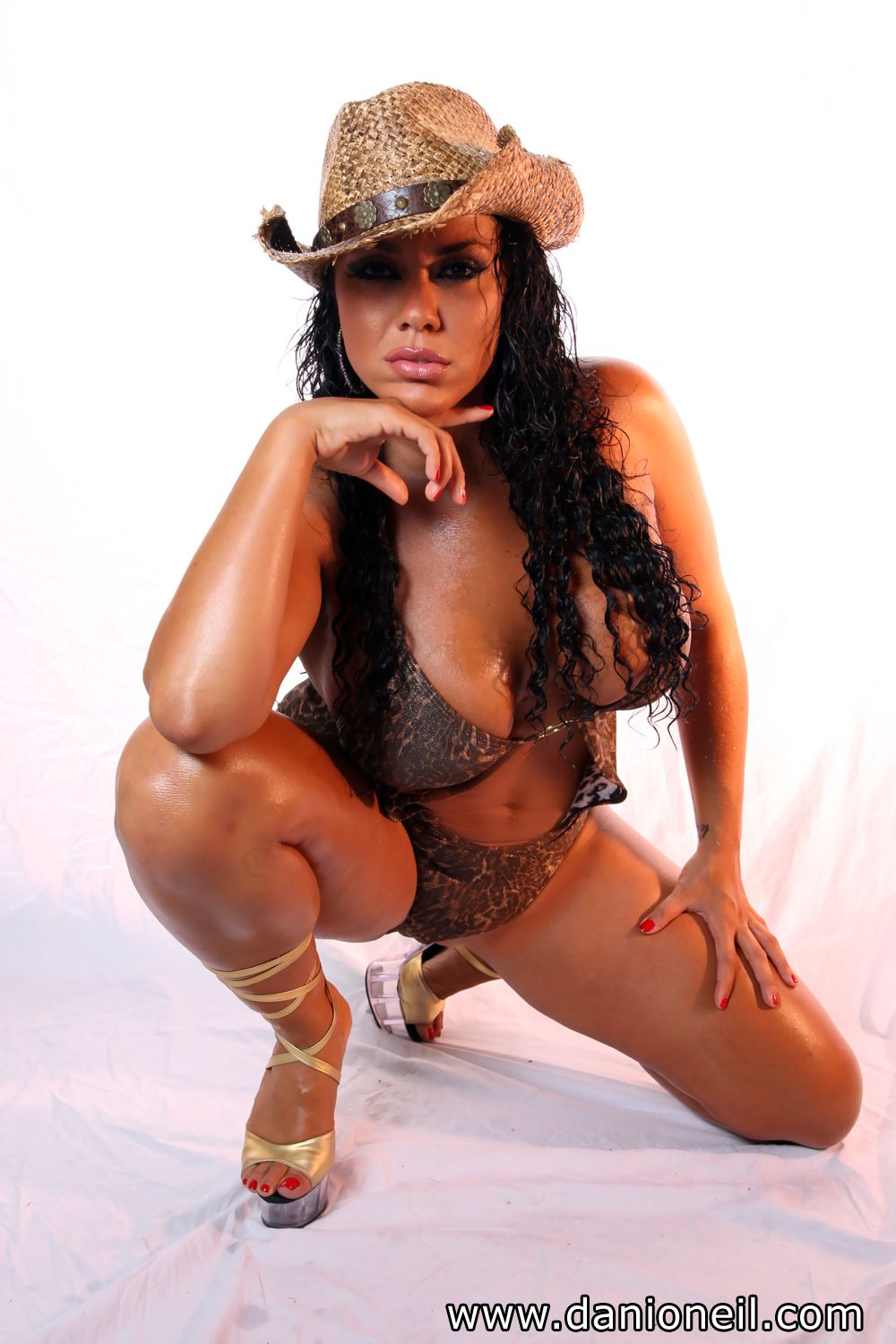 DANI O'NEAL ALL OVER
And that really was Dani O'Neal all over. Exotic, sexy, smoldering looks. Friendly, open, kind, generous, always ready to help a new arrival at the babe shows, to make them feel at ease. A sense of humour that would have the crankiest tv babe in fits of laughter. And, always doing her own thing, with her own presence and with very little regard to what anyone else thought. But the great thing was, she had no spite, and seemed only to do things for the greater good of everyone. Dani is a genuinely lovely and caring person. She is genuinely nice, but also genuinely very naughty.
To me, Dani was also the first lady of outfits. There are a few other babes who always looked right in whatever outfits they chose and who could play pretty much any role. But in that, Dani was a star. Naughty college girl, French maid, severe Dominatrix, sexy Spanish Flamenco dancer, Wetlook and sprayed with oil, Dani did them all. Not only did she wear every outfit with style, but she played every single role for the outfit she was wearing, perfectly. Dani knew how to transform herself completely into every outfit and every role she played. And her adult phone chat went with perfect synergy for each and every role. From a melting, purring soft voice, to a hard dominatrix pronouncing every word with precision, Dani was a natural. Sex on legs! All of which didn't mean she wasn't ready to break the rules at times…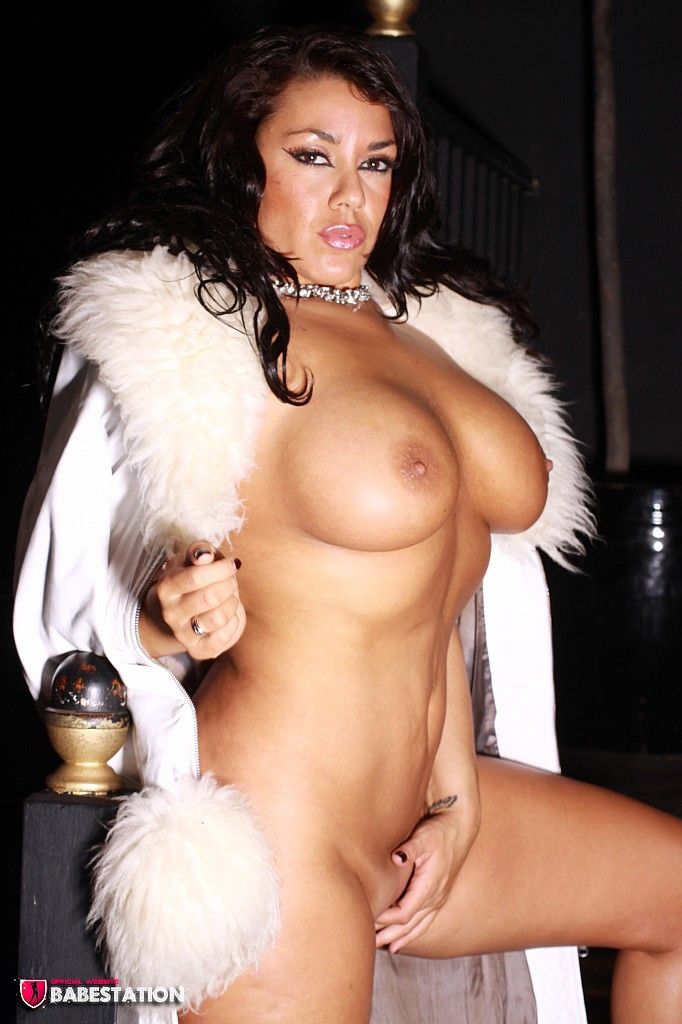 A DOG'S DINNER
One day I was in the Babestation dressing room. Behind me, Georgie Darby was being filmed in the showers by a BS producer. Dani was giggling with Ree Petra. Next to her on the floor, Dani had a fair sized, closed wicker basket. As I chatted with Dani, her basket began moving around on its own. Then it actually started jumping about, taking leaps off the floor and then back down again. "What's in the basket Dani?" I asked. "Nothing" said Dani, smiling sweetly. But when the basket continued to move suspiciously, she opened the lid. And out jumped a tiny chihuahua! "I just couldn't leave him at home on his own!", explained Dani. But all kinds of animals are of course not allowed in the Babestation studios and I was very aware of this and said so. Imagine if they got out onto the live set? But it was too late. Babes clustered around to play with tiny chihuahua. Cooing babes, playful babes. Babes that made it impossible for me to get anywhere near tiny chihuahua to cramp its style or impound it.
Then, suddenly, the Babestation producer popped in through the door. In an instant, tiny chihuahua was thrown under a huge pile of Babe outfits. Babes rushed forward to greet the producer to stop him from seeing tiny chihuahua. But his visit was a quick one. "Dani, BS1 in 3 minutes please. French Chloe, Sexstation please in 3 too." And with that, he was gone. Tiny chihuahua came out with a small, transparent pink bra on his head, wagging his tail enthusiastically and leaping around all over the place. I just knew what was coming next.
Opening her large and lovely eyes Dani asked me "Could you be a darling and just look after my chihuahua while I'm live please? I promise I won't ever bring him in again, but I just got him today, I just couldn't leave him at home…."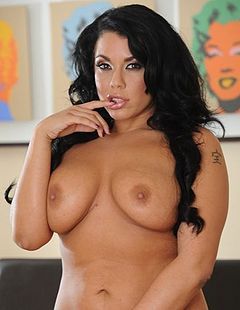 THE FIRST LADY OF BABESTATION
Yep, you guessed it, Who was I to refuse Dani O'Neal, the First Lady of Babestation? Tiny chihuahua had a lead. Being the only clothed person in the room, it fell upon me to take tiny chihuahua out for a walk and stay with him for the rest of the night until Dani had finished her sets.
And this is why Dani earned the title of the First Lady of Babestation for me. It's not just the case that she was one of Babestation's first ever babes. Nor that she is one of the most memorable. Nor that she remained with them until 2016 when she retired gracefully from live TV. Nor that as Babes go, Dani was a real charmer, a huge personality, had great talent and really felt every role she played. To me it is just because she is just simply Dani O'Neal and a truly sweet, kind and caring person. There was and is only one of her. And she is a true Babestation star.