French Chloe deserves an entire live babeshow blog all to herself. So, we are giving her one here! (Who wouldn't want to?) And, if you haven't heard of her, you need to ask yourself why. Because if ever there was a real life, down-to-earth babeshow babe who was truly committed to sex, but also really enjoys every moment, it is French Chloe. In fact, we will go as far as to say that she justly deserves her place in the Babeshow halls of fame for several reasons….
DOING IT FRENCH STYLE
First of all, have you ever thought of what it takes for someone who doesn't speak English as a first language, to learn how to do really good phone sex chat? Let's imagine you move to a foreign country. You settle in, learn the language. Now you can go down the shops without looking like an idiot. But that doesn't teach you anything about how to even start to give good phone sex, does it? You might get lucky and get some free practice in the sack, but your partner/s are hardly likely to camp out on the side of your bed for weeks, to teach you how to talk yourself through having sex in an exciting way and in great detail, are they? So firstly, hats off to French Chloe for having learned to be completely adept with her English phone sex. She kept her charming French accent and has used it to juice up our great British language to its full extent.
Secondly, Chloe has no foibles about sex that we know of. This would seem to be an inbuilt and completely natural feature about her. There is something that is rare and unpretentious about her. Yet, she is completely into being dirty in every way. She is open minded, open legged, does sub, dom, male, female and she honestly and genuinely seems to love it all. Honestly, she's not just a good actress. She really enjoys it!
A veteran of the babeshows, appearing on the likes of Red Light Central, S66 as well as the early babe channels like babecast she would always treat her callers as if they were the only one in the world as well. The caller at the end of her phone line was the only caller that existed. Whatever they wanted, including discussing recipes or their pet cat or whatever. Sometimes she would be chatting to them quite happily while Sexstation producers would be making rapid hand signals for her to get on with her sex chat. Both Chloe and her caller were in the moment, completely carried away.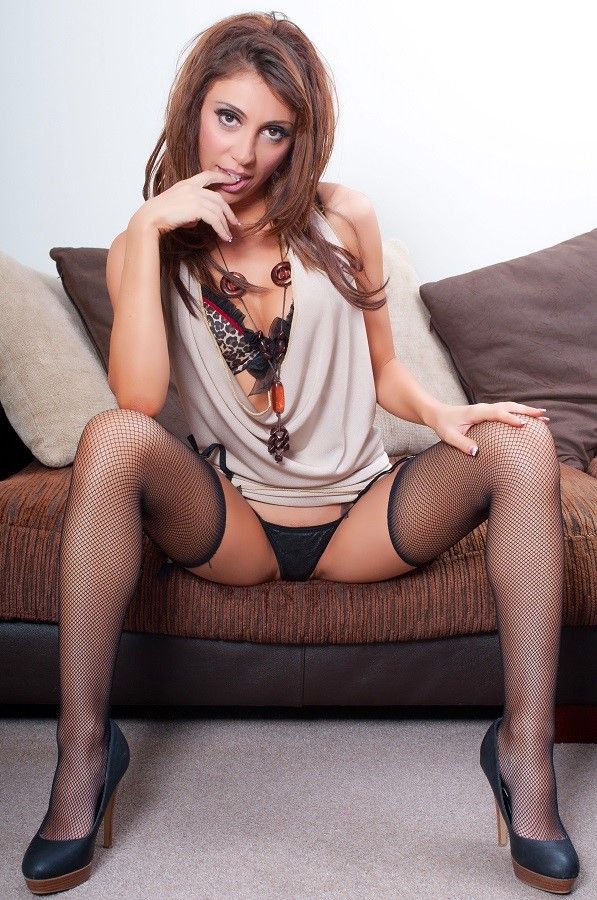 FRENCH MISTRESS
French Chloe really has always had a lovely natural way about her. She has a big-eyed innocence, amazingly long legs and a naturally slim figure. And she works at it. Again, she has a perfect understanding of what is required. What is also interesting is that she was excellent as a Mistress, but was equally comfortable as a submissive. She could frequently be seen bound and gagged and in all kinds of positions. And let's face it, it's not every babeshow babe that is up for that. She wouldn't mind doing spycam (now called Pervcam on Babestation) and was particularly good at upskirt, and at times would really play up to that too. Like, full on play up to it for her eager voyeurs, how it should be.
Also, Chloe wins a prize for being among the most committed babes we have ever seen on Sexstation cams. Sometimes, even when she was due to go home ages ago, there she would be, happily chatting with one of her regulars. Try and make her go home and oh no, that would be out of the question. Because with Chloe, the caller always came first. Which says it all really.
God Bless Mademoiselle French Chloe. We could do with a few more like her. Naturally nice. A real babe who loves what she does. The real thing.