Club Paradiso stands out in babe channel history as being somewhat alternative, yet full of ye olde babeshow charm! Unfortunately, it also attracted the attention of OFCOM and had its own fair share of problems.
Located in central London in the very heart of Soho at the end of the noughties, Club Paradiso had a great advantage. Babes were easily able to travel in from anywhere. Also, the managers were friendly and well- meaning and the studio set up was small and cosy. Initially for some girls, this came as a welcome break after the crowded, perhaps more pressurising environment of some of the "superstar" major babe channels. So, independent and unique babechannel Club Paradiso was blessed with featuring several big babeshow names. But it also took on some of its own amateur babes who became well-known and popular in their own right. Some of these were genuinely lovely girls who were really great at chatting. They were also much appreciated by babeshow audiences.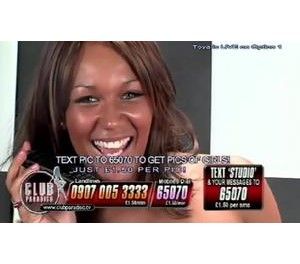 A BRAVE VENTURE
From what we know, Club Paradiso was launched on 1st October 2009. It was aired on Sky Channel 966. It sprung up originally due to its service provider having good experience in the management of phone sex lines. In a way, having the mechanism and know-how of this area of expertise is half of a babeshow. The rest is surely just getting a studio, sticking a couple of cameras up and getting babes on, right? Well, no, not quite. And this is where Club Paradiso found it hard to cope…
Ofcom received a complaint which said that this broadcast was too explicit and included sexual activity between a male and female presenter including simulated or mimed oral sex, sexual intercourse and other sexually provocative acts. (OFCOM bulletin 166, 2010)
But more about that later.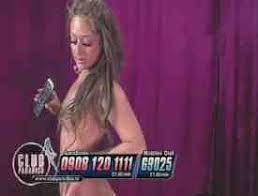 CLUB PARADISO- A SINGULAR BABECHANNEL
What was great about Club Paradiso that compared to shiny babe channels like Babestation, with an extensive studio and numerous top babes, Club Paradiso was a small outfit. To begin with, it just had the one channel, featuring daytime and night-time shows. Yet it seems that even that was tough going to look after, at times. Club Paradiso often struggled to get enough babes and enough good producers (although there were some that were great and well loved by the girls, others were apparently not so great). In short, at times, it suffered from being able to properly manage its staff.
It was also hampered by lack of space, with the capacity only to have one or maximum two people on screen at any time, limited sets and due to the short staffing, it was common to have one babe on its shows at any one time. It also managed to get a reputation on the UK Babe Forums, that many babes would come and then leave within a really short time frame.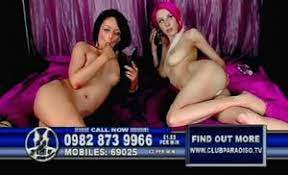 SOME GREAT CLUB PARADISO BABES
In its favour, Club Paradiso did have some really great babes, who were really good with their chat. Some of these babes were real troopers and would do extremely long or double shifts when needed. Notably Tamara, who was an unusually buxom babe in her late teens, who was highly competent at sex chat and Courtney, who really did have her own inimitable style. She was one of the regular daytime babes that helped Club Paradiso develop its own personality.
Some other names you may remember who featured on Club Paradiso are Summer, Ashleigh Doll, Sammie Pennington, Kimmy Haze, Lexi Ward, Hannah Prentice, Kate Banks (known as Izzy), Morgan, Rachel Cole, Monica Harris, Juliet, Roxy Belle, Tailia, Karen Wood, Claudia Rossi. Fatimah, Brummie glamour girl and Porn star Ree Petra, Chelsea French, French Chloe, Cindy Behr, Kiran Khan and Rebecca Jade. Several of the babes that populated Club Paradiso went on to become regular faces on Red Light Central and S66.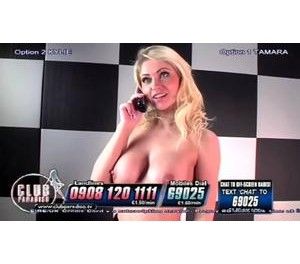 OFCOM GO DOWN ON CP
Because Club Paradiso was a small outfit, girls were often trusted to get on with shows under their own initiative. Thus various appearances of girls wearing school girl outfits, bedtime pyjamas accompanied by toy bunny rabbits and male/female performances, often walked extremely close to the edge of what was acceptable viewing materials on the babeshows, at that time.
A few mistakes such as leaving the mic up during a difficult live sex chat call, an accident with a thong slipping aside and more, made Club Paradiso great viewing for avid viewers of the babeshows. However, it was also at risk of complaints. Complaints mean OFCOM. And OFCOM meant trouble for Club Paradiso.
As an example here is one post from a thread on the UK babeshow forum entitled RE: Biggest jaw dropping moment on these channels; "Any of Ava's dayshows on Club Paradiso from a few years back, but in particular the one where she was on the desk wearing pastel pink cotton knickers. Open legs and not-so-discreet over-the-knicker pussy rubbing which resulted in a nice damp patch."
And this sort of thing would get Club Paradiso bang into trouble.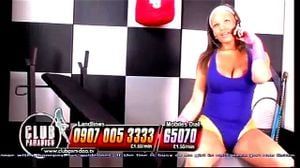 CLUB PARADISO OFCOM BREACHES
Already In 2009 there was an OFCOM incident where OFCOM requested recordings of the show. Club Paradiso were apparently unable to furnish these, due to an "error."
In September 2010, OFCOM's enquiry concerned the performance of a male and female presenter in June of that year. He was wearing underpants and she was wearing stockings and a black thong. Unfortunately, from a regulatory point of view, there was a lot of touching between the two, mimicking of oral sex and more. As an excerpt of what OFCOM reported:
The male presenter also adopted various positions, which included kneeling with his crotch by the female presenter's mouth, kneeling behind the female presenter whilst she was on all fours and lying on his back while under the female presenter. While in these positions, the female and male mimed oral sex on each other, they both gyrated their hips miming sexual intercourse, the male squirted white lotion on the female"s buttocks and rubbed it in, and the male licked the female"s breasts and nipples. Furthermore the male stroked and gently spanked the female"s body and buttocks. At times the squirted lotion was left on the female"s buttocks for a period of time.
Several other Ofcom Bulletins list complaints. And ultimately a small babechannel having numerous breaches with OFCOM is never good news.
We can only assume that this led to the demise of Club Paradiso. After June 2011, there were no further posts on Twitter or on the forums. Club Paradiso still holds a place in babeshow history. It was out there, different and tried its best. And if you know more, then let us know too!